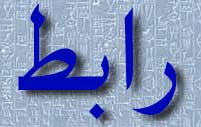 ---
---
Raabet's Information Page
---
---
---
[ Search Tips ] | [ Connect Us ] | [ BulletinBoard rules ]
[ Add your Photo ] | [ Joke rules ] | [ Registration Tips ] | [ Additional ]
---
Welcome to the Raabet ...

The word "Raabet" means "Liaison" , "Communicator" , or "Intermediator". As the name indicates, Raabet is a web site which is intended to connect and bring all Iranians together from all over the world. As you know, the Iranian race is one of the most widely scattered races on the globe. It is our hope that this web site will become a useful medium of exchange for both personal and business communications.

Currently, Raabet is comprised of following sections:
Personal Directory :


It is designed to reconnect lost friendships or create new ones. You can register yourself and conduct world-wide searches for people, such as old schoolmates, old colleagues, or individuals with same interests as you.


Business Directory :


You can search for any business or services that Iranians are providing to the public, or advertise your own.


Informative Directory :


You can search for any Web-Site, non-profit Organization, and Cultur Center that Iranians are providing to the public, or register your own.


Worth Seeing :


Here we provide a chat service, and the User Page section. Using our chat service you can talk to people from around the world in real time.
Also you can see here some interesting and informative Pages from Raabet Users. and of course if you are interested , you can have your own page in raabet, just let us know.


Bulletin Board :


You can place an announcement or an advertisement to sell or buy a personal property, or search for information about various events world wide.


Joke Center :


You can share your jokes with all Raabet users. This way, we will help keep the famous Persian sense of humor alive.



We are in the process of adding many other sections and services, such as poetry, history, and famous cooking recipes from various Iranian states at this time.

We do welcome and greatly appreciate your comments and suggestions to make this web site a better medium of exchange for all.

We hope you enjoy Raabet.
Sepaas-gozaarim.




---
Tips for Your Registration :

If you wish, you can register in the personal or the business directory. The information fields are not mandatory input fields; however, they are essential if you wish to be located easily. In most of the input fields, you can have multiple entries; for example, if you wish to enter your maiden name in addition to your married name, you must separate each name by comma ( , ) . The date of birth and age will never be displayed; they are simply used for search purposes. The search on age or date of birth is conducted with a plus or minus two years tolerance. In the business group filed, it is crucial that you use the general business category names describing your field of profession
(i.e., Services, Car, Engineering, Finance, Doctor, Accounting).


---
Search Tips:

You can conduct a simple search by utilizing the Quick Search menu, or an exact search by using the Advanced Search menu. The Quick Search engine provides you with all the records that match the single criteria which you have specified. The Advanced Search engine, however, is more sophisticated and can conduct search based on more than one criteria. For example, you can request a list of all the registered people who graduated the ALBORZ highschool in TEHRAN, and who are about 30 years old. The search on age criteria is conducted with a plus or minus two years tolerance. Note: only the first 20 matches will be displayed.


---
Rules for Bulletin Board:

You can utilize the bulletin board for personal use whenever you wish to buy or sell personal items, such as cars, households good, or even your own house. You can also post public events which are pertinent to Iranian community. Depending on the posting traffic, the postings will be removed automatically within one to four weeks. Business advertisements are not allowed in this section and are removed immediately. This service is free as long as it is not used for advertising businesses. If you wish to remove your advertisement before its expiration date, please send us an email.


---
How to add Your Photo :

If you have a scanned picture of yourself or a digital camera photo, attach it to just an e-mail, and forward it to Raabet. Because of our storage capacity limitations, the size of your photo should not exceed 15 KB.


---
How to send a Joke :

If you wish to send in your jokes, simply click on "send us your joke" in the Joke menu page , type in your joke, and then click on the send button. We would like to ask you to avoid using derogatory words and negative racial remarks that could offend individuals. You can easily soften your jokes by using words like "a person" or "somebody" instead of naming a specific group of people in the society.


---
Additional Information:

We will do our best to provide you with accurate information. However, we can not guarantee that the information on Raabet is correct and up to date.

Any person or business that adds an entry accepts full responsibility for that entry. We assume no responsibilities as to the validity, correctness and/or trustfulness of any of the entries posted, and will not be liable for any monetary and/or non-monetary loss and/or damages that may results from using our services. We reserve the right to remove any of the posted entries at anytime without notice and/or explanation.

Raabet is not affiliated with any political or religious organization. It is our primary goal to bring all Iranians together from all over the world and promote the rich and glorious Iranian culture and heritage.


---